Our Featured Listings
MLS#: 221013081
738 S Golf Dr
This is one of the "wow" homes in the heart of Old Naples. Enjoy going to the beach, walking, biking with golf and tennis directly... Read More
3,619 Sqft

Acres: 0.30

4

4
Status: A-Active, MLS# 221013081
Listing courtesy of Premier Sotheby's International Realty

MLS#: 220053845
1021 S 3Rd St 102
Best location in Old Naples. Two-bedroom, two-bath first floor unit only two and a half blocks to the beach. Only three blocks to the Third ... Read More
Status: A-Active, MLS# 220053845
Listing courtesy of Premier Sotheby's International Realty

MLS#: 220037774
305 N Storter Ave 29
Welcome to your perfect, peaceful getaway on this quaint private island just 30 minutes south of Naples! Club Everglades consists of 29 Old ... Read More
Status: A-Active, MLS# 220037774
Listing courtesy of Premier Sotheby's International Realty

McDermott Naples Real Estate
Premier Sotheby's International Realty
Patience pays off.
Just ask Debbi and Marty McDermott of Premier Sotheby's International Realty ®.
"We had a couple who visited Naples several times over a four-year period," recalls Marty. "Each time they came to town, Debbi would show the wife around to see what was new on the market. At first, the price point she named was a little under a million, but then it inched up each trip…a million two, a million three.""
"One day I got a phone call from the husband, asking, 'Where's the best place to put six million dollars?' It kind of knocks you off-kilter when something like that happens."
Off-kilter or not, the McDermotts ended up handling nearly $20 million in transactions in less than a year, as the client, a retired surgeon, bought – and then sold at a handsome profit – a $6 million home in Port Royal and a $1 million property in Park Shore. The spree ended with the good doctor purchasing a residence on a "slightly smaller lot" for the paltry sum of $2.5 million.
That's the kind of persistence and customer service in which the McDermotts take pride.
Learn More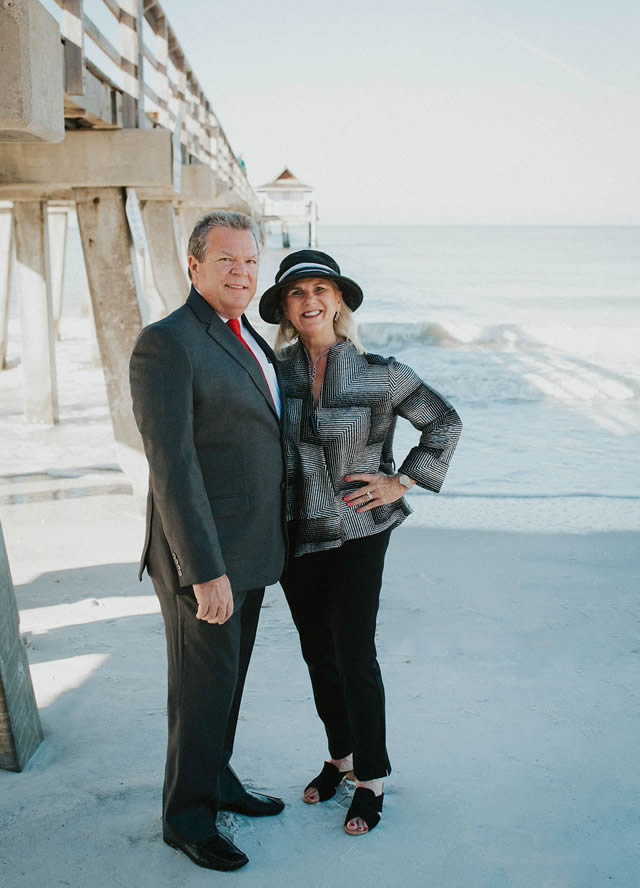 START YOUR HOME SEARCH
Tailor your search to the right location, lifestyle and price range. It's easy. Click to find your piece of paradise in sunny Naples.
WHAT'S YOUR HOME'S VALUE?
Allow us to evaluate your property to determine competitive pricing and marketing strategies. We can help you get it sold!
EMAIL PROPERTY ALERTS
Be among the first to know when properties that match your criteria enter the market. The sign up is so simple!
NAPLES COMMUNITIES
Location! Location! Location! Discover which Naples community might best fit your lifestyle goals.
NAPLES NEWSLETTER
Register to receive our monthly Naples newsletter that spotlights real estate market information, local events and more!
What Clients Say About Marty & Debbi McDermott
"OUT OF TOWN TRANSACTIONS, NO PROBLEM"
"It's not an accident that we use Marty and Debbi. We know what to expect and we know good realtors when we see them."
"They really know Old Naples real estate."
"THE MCDERMOTTS ARE PROFESSIONALS, REAL ESTATE IS NOT A HOBBY OR SIDELINE FOR THEM 24/7 SERVICE ISN'T JUST A CATCH PHRASE, IT BECOMES 'FRIENDSHIP' FOR MANY."
View All Testimonials